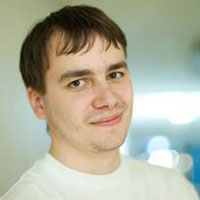 Názov práce
Detekcia neštandardného správania v multikamerových systémoch
Roky štúdia
2014-2018 – doktorandské štúdium (PhD.)
2012-2014 – inžinierske štúdium (Ing.)
2009-2012 – bakalárske štúdium (Bc.)

E-mail
roman.vapenik@cnl.sk
Miestnosť
Letná 9, miestnosť B508 "skleník", klapka (055 / 602) 7078
UVP Technicom, miestnosť č. 116, klapka (055 / 602) 3603
---
Konzultačné hodiny
Stretnutie si dohodnite emailom
---
Výskum a práca
výučba:
Počítačové siete (2. ročník) – CCNA1, CCNA2
Aplikácie počítačových sietí (3. ročník) – CCNA3, CCNA4
// v prípade potreby
Smerovacie algoritmy v počítačových sieťach (4. ročník) – CCNP Route
Projektovanie počítačových sietí (4. ročník) – CCNP Switch
Riešenie problémov rozsiahlych infraštruktúr (5. ročník) – CCNP Trobuleshoot
vedie bakalárske práce:
Vizuálne značky v obraze
Inovatívne riešenia pre podporu výučby počítačových sietí
Monitorovanie prevádzky teleprezentačnej infraštruktúry
Zjednodušenie registrovania používateľov do lokálnej siete
Interaktívny e-learningový portál
Systém pre monitoring priestorov laboratória s použitím kamier a IoT senzorov
Vývoj webových komponentov pre sledovanie živého vysielania
Skriptovanie v Packet Tracer a simulácie komplexných topológií
Interaktívna detekcia osoby v reálnom čase
konzultuje diplomové práce:
Aplikácia pre tajné hlasovanie počas obhajob s videokonferenciou
Pokročilé mobilné rozhranie pre systémovú integráciu
Systém pre interaktívne hlasovanie a komentáre pri živých vysielaniach
Systém pre tvorbu smart ovládacích zariadení
Systém pre automatizovaný záznam prednášok
Webový editor videa s API
viedol obhájené bakalárske práce:
(2015) Algoritmy pre detekciu a sledovanie objektov v obraze
(2015) Webovo orientovaný videokonferenčný systém
(2016) Systém pre správu kamier rôznych typov
(2016) Samohodnotiace praktické testovanie študentov
(2016) Živé vysielanie vzdelávacieho obsahu
(2016) Android aplikácia pre sledovanie živého a archivovaného vysielania
(2016) Mobilná aplikácia pre správu IP kamerového systému
(2016) 3D webová aplikácia pre orientáciu v kamerovom systéme
(2016) Multimediálny portál pre archiváciu prednášok a prezentácii
(2017) Monitorovanie životných funkcií pomocou videa
(2017) Detekcia neštandardného správania vo videu
konzultoval obhájené diplomové práce:
(2016) Webovo orientovaný videokonferenčný systém
(2016) Záznamové zariadenie pre živé vysielanie na báze Raspberry Pi
(2017) Detekcia tváre z multikamerového systému
(2017) Sledovanie objektov v multikamerovom systéme
(2017) Systém pre vzdialené ovládanie kamery
(2017) Optimalizácia aplikácie pre ovládanie inteligentnej domácnosti na platforme Android
---
Projekty
video@lab
Univerzitný vedecký park Technicom
IT Akadémia
Národná teleprezentačná infraštruktúra
---
Publikácie
2014
Secured web oriented videoconference system / Roman Vápeník, Katarína Feciľaková, Dávid Cymbalák – 2014. In: Electrical Engineering and Informatics 5 : Proceeding of the Faculty of Electrical Engineering and Informatics of the Technical University of Košice. – Košice : TU, 2014 S. 563-567. – ISBN 978-80-553-1704-5
High efficient live streaming using the latest available streaming technologies / Attila Jakab, Roman Vápeník – 2014. In: Poster 2014. – Praha : ČVUT, 2014 P. 1-4. – ISBN 978-80-01-05499-4
Approaches and measures to enhancement of computer networks courses / Ondrej Kainz, Michal Kovalčík, Roman Vápeník, František Jakab, Dávid Cymbalák – 2014. In: ICETA 2014 : 12th IEEE International Conference on Emerging eLearning Technologies and Applications : proceedings : December 4-5, 2014, Starý Smokovec. – Danvers : IEEE, 2014 S. 227-232. – ISBN 978-1-4799-7738-3
Secured web oriented videoconferencing system for educational purposes using webRTC technology / Roman Vápeník, Miroslav Michalko, Jozef Janitor, František Jakab – 2014. In: ICETA 2014 : 12th IEEE International Conference on Emerging eLearning Technologies and Applications : proceedings : December 4-5, 2014, Starý Smokovec. – Danvers : IEEE, 2014 S. 495-500. – ISBN 978-1-4799-7738-3
Using modern streaming technologies for high quality and performance-oriented live streaming (May 2014) / Attila Jakab, Roman Vápeník – 2014. In: SCYR 2014. – Košice : TU, 2014 S. 279-282. – ISBN 978-80-553-1714-4
2015
All-in-one time-lapse device of DSLR / Lukáš Melega, Peter Feciľak, Michal Kovalčík, Roman Vápeník – 2015. In: Electrical Engineering and Informatics 6 : proceedings of the Faculty of Electrical Engineering and Informatics of the Technical University of Košice. – Košice : FEI TU, 2015 S. 375-379. – ISBN 978-80-553-2178-3
Application for comparison of disaggregation methods of appliances based on energy profile in households / Kolos Fuchs, Michal Kovalčík, Roman Vápeník – 2015. In: Electrical Engineering and Informatics 6 : proceedings of the Faculty of Electrical Engineering and Informatics of the Technical University of Košice. – Košice : TU, 2015 S. 411- 415. – ISBN 978-80-553-2178-3
Object tracking in videoconferencing systems / Roman Vápeník – 2015. In: SCYR 2015. – Košice : TU, 2015 S. 261-265. – ISBN 978-80-553-2130-1
Extension of web-oriented videoconferencing systems with object detection / Roman Vápeník – 2015. In: MIST 2015. – S.l. : CreateSpace Independent Publishing Platform, 2015 S. 1-8. – ISBN 978-1514866382
Disaggregation of Appliances Energy Profile in Households and Data Visualization of Abnormal Behavior / Roman Vápeník, Michal Kovalčík, Peter Feciľak, František Jakab – 2015. In: ICETA 2015. – Danvers : IEEE, 2015 P. 387-392. – ISBN 978-1-4673-8534-3
Smart Home control module as IOT IOE learning / Michal Kovalčík, Roman Vápeník, Peter Feciľak, František Jakab – 2015. In: ICETA 2015. – Danvers : IEEE, 2015 P. 207-212. – ISBN 978-1-4673-8534-3
2016
Evaluation of Parameters for Tracking Objects in Multi-Camera Systems / Vápeník Roman – 2016. In: SCYR 2016 : Proceedings from Conference: 17.5.2016: Herľany, S. 120 – 121. – ISBN 978-80-553-2566-8

Multi-camera broadcasting model with automation of optimal scene switching / Dávid Cymbalák, František Jakab, Miroslav Michalko, Ondrej Kainz, Roman Vápeník – 2016. In: Infocommunications Journal. Vol. 8, no. 4 (2016), p. 15-22. – ISSN 2061-2079

Estimation of Camera Intrinsic Matrix Parameters and its Utilization in the Extraction of Dimensional Units / Ondrej Kainz, František Jakab, Peter Feciľak, Roman Vápeník, Aleš Deák, Dávid Cymbalák – 2016. In: ICETA 2016. – Danvers : IEEE, 2016 S. 153-156. – ISBN 978-1-5090-4699-7

Kinect as a Tool in Estimation of Selected Human Body Dimensions / Ondrej Kainz, František Jakab, Miroslav Michalko, Roman Vápeník, Dávid Cymbalák – 2016. In: ICETA 2016. – Danvers : IEEE, 2016 S. 157-163. – ISBN 978-1-5090-4699-7

Human Face Detection in Still Image using Multilayer Perceptron / Roman Vápeník, Ondrej Kainz, Peter Feciľak, František Jakab – 2016. In: ICETA 2016. – Danvers : IEEE, 2016 S. 365-369. – ISBN 978-1-5090-4699-7
2017
Extracting the skeletal model of the human body from static image / Ján Drozd, Ondrej Kainz, Miroslav Michalko, Roman Vápeník, František Jakab – 2017. In: Electrical Engineering and Informatics 8 : proceedings of the Faculty of Electrical Engineering and Informatics of the Technical University of Košice. – Košice : TU, 2017 S. 433-437. – ISBN 978-80-553-3192-8

Solution for collection of anthropometric parameters / Jaroslav Foltín, Ondrej Kainz, Miroslav Michalko, Roman Vápeník, František Jakab – 2017. In: Electrical Engineering and Informatics 8 : proceedings of the Faculty of Electrical Engineering and Informatics of the Technical University of Košice. – Košice : TU, 2017 S. 223-228. – ISBN 978-80-553-3192-8

Non-Standard Situations in Multi-Camera Environment / Roman Vápeník – 2017. In: SCYR 2017. – Košice : TU, 2017 S. 174-175. – ISBN 978-80-553-3162-1

Video-Based Monitoring Of Vital Signs / Roman Vápeník, Simona Čisárová, František Jakab 

– 2017.

 In: Electrical Engineering and Informatics 8 : proceedings of the Faculty of Electrical Engineering and Informatics of the Technical University of Košice. – Košice : FEI TU, 2017 S. 449 – 454. – ISBN 978-80-553-3192-8
Implementing selected DLMS protocol objects for Antik eMeter product / Matej Kurinec, Roman Vápeník, Peter Feciľak – 2017. In: Electrical Engineering and Informatics 8 : proceedings of the Faculty of Electrical Engineering and Informatics of the Technical University of Košice. – Košice : FEI TU, 2017 S. 628 – 633. – ISBN 978-80-553-3192-8
Optimalizácia aplikácie pre ovládanie inteligentnej domácnosti na platforme Android / Roman Vápeník, Aleš Deák, Juraj Bonk, František Jakab – 2017. In: Electrical Engineering and Informatics 8 : proceedings of the Faculty of Electrical Engineering and Informatics of the Technical University of Košice. – Košice : FEI TU, 2017 S. 506 – 511. – ISBN 978-80-553-3192-8

Dimensional unit as an aid in students identification / Ondrej Kainz, Roman Vápeník, Dávid Cymbalák, Jakub Kovaľ, Miroslav Michalko, František Jakab, 2017. In: 15th IEEE International Conference on Emerging eLearning Technologies and Applications: 26. – 27.10.2017: Starý Smokovec, S. 195 – 199, Košice : IEEE, 2017  – ISBN 978-80-553-3162-1

Effective Collaborative Environment with Live Broadcasts using Slovak National Telepresence Infrastructure / Dávid Cymbalák, František Jakab, Miroslav Michalko, Roman Vápeník, Ján Turňa, Ľubomír Bilský, Jana Kováčová, 2017. In: 15th IEEE International Conference on Emerging eLearning Technologies and Applications: 26. – 27.10.2017: Starý Smokovec, S. 81 – 86, Košice : IEEE, 2017  – ISBN 978-80-553-3162-1

Object tracking in multicamera systems / Roman Vápeník, Filip Kriak, František Jakab, 2017. In: 15th IEEE International Conference on Emerging eLearning Technologies and Applications: 26. – 27.10.2017: Starý Smokovec, S. 501 – 505, Košice : IEEE, 2017 – ISBN 978-80-553-3162-1
Citácie
Secured web oriented videoconferencing system for educational purposes using WebRTC technology
Deshpande, Madhura, and S. P. Mohani. "Integration of WebRTC with SIP–Current Trends." Int. J. Innov. Eng. Technol. Integr. 6, no. 2 (2015): 92-96.

Kotagia, Jagadish, K. C. Srikantaiah, and K. R. Venugopal. "Peer to Peer Communication Mechanism Across Web Browsers."

Chen Yilun. "Research on Reducing Multi-party Video Traffic Using Adaptive Dynamic Resolution – A Case Study of WebRTC." Master's thesis in Information Engineering, Taichung University of Science and Technology (2016): 1-54.
Human face detection in still image using Multilayer perceptron solution based on Neuroph framework
Detsing, Jeerawat, and Mahasak Ketcham. "Detection and facial recognition for investigation." In Digital Arts, Media and Technology (ICDAMT), International Conference on, pp. 407-411. IEEE, 2017.
Smart home control module as IOT/IOE learning
Miškuf, Martin, Erik Kajáti, and Iveta Zolotová. "Smart Metering IoT Solution Based on NodeMCU for More Accurate Energy Consumption Analysis." International Journal of Internet of Things and Web Services 2 (2017).